NVIDIA ANSEL IN VR
Capture and create in-game screenshots that can be viewed in 360 degrees. Compose your screenshots from any position, adjust them with post-process filters, capture 4K HDR images in high-fidelity formats, and share them in 360 degrees using your mobile phone, PC, or VR headset.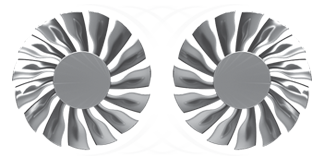 Dual Fan
A Dual Fan design offers double the cooling performance, and combined with the 9CM-9CM Smart Fans, heat is effectively drawn away from hot spots.
4k3

With its three DisplayPort ports, the Palit provides a flawless, jaw dropping experience at 4K monitors surround.
Honeycomb Bracket

The design of honeycomb bracket increases airflow by up to 15%, allowing the heat generated from GPU to be exhausted via the honeycomb design bracket. This enables more efficient cooling effects.
ThunderMaster

ThunderMaster is a utility program for the graphics card under Windows, and provides you to boost performance of the graphics card and to monitor the GPU information, which will only function correctly in conjunction with your new graphics adapter.